Mesti ada yang tak kena dengan drama ni kan. Jandi eksiden lagi. Selepas itu dihari yang sama Jun Pyo jatuh di red kapet. Semua watak utama dah eksiden kan? Ga Eul dah blom?
http://kr.news.yahoo.com/service/news/shellview.htm?linkid=16&articleid=2009030206592555007&newssetid=83



translated by: dunlop09
written by: 강은영기자


Drama becomes real life: Lee Min Ho saves Goo Hye Sun



In an interview Goo hye sun had at the hospital on the 28th, she revealed,"Thanks to Lee Min Ho I got to get to the hospital quickly to receive treatment."
"After the accident occurred, a van that looked a lot like Lee Min ho's passed by. With my head ringing, I slightly remember thinking, 'I wish that was Min ho's car.' As the car door opened, it turned out that it was really Min ho, and he began to run toward us. At that time he looked like the savior of the world. Had I gotten to the hospital any later, my recovery would have been later as well. I was so thankful."
Goo Hye Sun's car collided with a dump truck that was driving ahead of them. Lee Min Ho took Goo Hye Sun all the way to the hospital, and then proceeded to go back to filming. He then attended the award ceremony with the rest of his cast. However, Lee Min Ho and his representatives kept the incident(where LMH helped GHS) quiet.
Goo Hye Sun watched the award ceremony on TV. "I was shocked when I saw Lee Min Ho fall on the red carpet. I laughed without even knowing. I thought the stitches in my mouth had come undone(laughs). Lee Min Ho and Kim Hyun Joong came to visit after the ceremony. I was very thankful. It must not have been easy to make time when they had such a busy schedule.
She expressed her happiness when she saw her two co-stars receiving the awards.
Currently, Goo Hye Sun has 3 stitches inside of her lip. The swelling was bad enough to halt production. Because of this, they will be showing a special instead of episode 17 on the 2nd. Goo Hye Sun hopes to return to filming as early as the 2nd. She is scheduled to go back to the hospital on the 5th to take out the stitches. (credit GHS @soompi pg 56)
Gambar gerak perlahan. Baekkk punya stunt hehe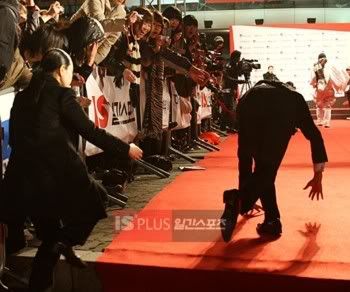 Versi gerak laju http://www.youtube.com/watch?v=KV6aYEKXedo

Bunga apa yang sumpah mereka ni agaknya? Waiem teka bunga api kot
Boys Over Flower setiap Isnin & Selasa di Astro 303 KBS World jam 9 malam