Copy-paste the text, delete my answers and forward it to people who have
nothing else better to do like me. If you don't follow my instructions, fleas from a thousand camels will feast in your armpits....I'm serious!
ME : ohmo…scary jugak
SIX NAMES YOU GO BY (this is not easy!):
1. Azzurah / Zura (panggilan geng skola, Uni & opis)
2. Aju / Ju (panggilan orang kampung)
3. Waiem (panggilan geng blog)
4. Aunty Wai
5. Aunty Zura
6. Norwa

- Jenuh gak nak eksplen kat asben 3 kelompok sahabat handai rakan dan taulan ni...hehehe

THREE THINGS YOU ARE WEARING RIGHT NOW
1. T-shirt (Sama macam Ashie)
2. Bermuda short (Sama gak)
3. Skarf rambut
FOUR THINGS YOU WANT VERY BADLY AT THE MOMENT
1. Yang pertama, nak sambung tengok Coffee House selepas lihat wajah terlatest ni. Aigooo...
2. Yang kedua, nak jersi nomo 1 Uruguay (hahaha)
THREE PEOPLE WHO WILL SEND THIS BACK TO YOU
Tak paham soklan ni. Kenapa depa nak kena send back to me? Ambe rasa depa ni akan tag balik kat ambe
1. Kang Ji Hwan
2. Chiaki senpai
3. Fernando Muslera
TWO THINGS YOU DID LAST NIGHT?
1. Buat coklat
2. Lepas tu tengok Adi Putra dalam telemovie Tetamu Malam. Best plak cite ni. Al-kisahnya terbitan Europine Ida Rahayu. Patutlah semacam rasa best telemovie ni. Saya suka jalan cite dia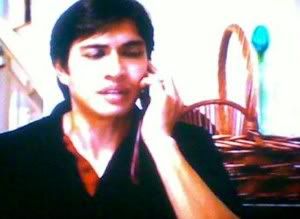 "Weh Adi, apa pasat ko tak confirm pren dengan ambe lagi nih kat efbi. Tak gerek seh ini machiem"
TWO THINGS YOU DISLIKE TODAY :
1. Asek lapar
2. Cik asben outstation balik lambat
TWO PEOPLE YOU LAST TALKED TO ON THE PHONE :
1. Asben ku
2. Boss (Tak de ketenangan orang nak berhujung minggu)
TWO THINGS YOU ARE GOING TO DO TOMORROW :
1. Pass coklat kat Ijip
2. Nak gi makan dimsum…nyum nyum (Kalau jadik. Mintak-mintak jadik ler...fuhhh)
THREE OF YOUR FAVORITE DRINKS :
1. Air suam
2. Limau suam
3. Fruit jus

And please do not spoil the fun. Hit forward, delete my answers and type in your answers. Then send this to a whole bunch of people you know INCLUDING the person who sent this
ME : Wokeh siap!